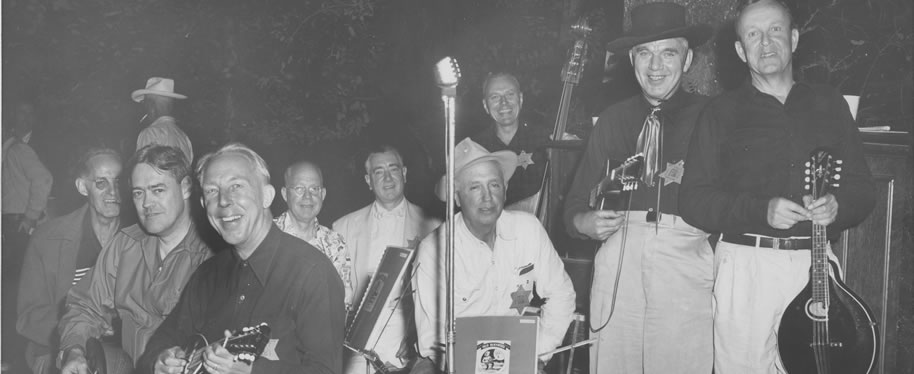 Pictured here you can see all of the original members gathered for a performance in about 1951. If you look closely at the music stand in the center of this picture, you can just make out the original art work for the band's CD cover.  We still don't know how they knew we would need a CD cover back in 1951!  Nonetheless, Old Haywire, or "Haywire" as it is commonly known, was around long before any of the current members were even born. However, one of the band's 1936 founding members is the grandfather of current Haywire bandleader, Doug Johnson. Doug played with many of the original members in their later years and has carried on the tradition today.
In the early days, The Haywire "Orchestra" was mostly a Country and Old-Time music band. Bluegrass wasn't even called "bluegrass" back then, and Bill Monroe was still searching for a sound he liked. Over the years, the focus became more and more about bluegrass but one thing will never change – Back then, as now, the band's motto is "Just For Fun!"
Today, the group is comprised of good friends that have each been playing and performing bluegrass for many years. The group can be seen volunteering at local bluegrass festivals, leading EZ Jam workshops, or just playing on the street corner for anyone who wants to listen.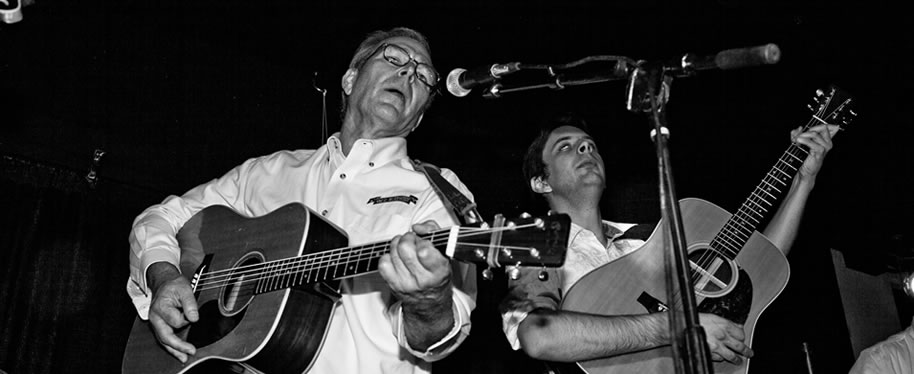 Haywire is led by Doug Johnson on guitar and lead vocals. Doug learned to play the mandolin at his grandfather's knee and refined his abilities by listening and playing with the likes of Pat Enright and other "up and coming" players of the day.
Steve Johnson on banjo and backup vocals began playing with his life long friend and late mentor Bobby Metzel, who was Bill Monroe's Guitar player in the late 50's. Steve is one of the most powerful and talented 5 string banjo players you will ever hear, and that is saying something!
David Moore on mandolin and back-up vocals, is a protégé of Mike Compton of the Nashville Bluegrass Band. David is an amazing mandolin musician and has been playing since high school when he first started on the banjo back in North Carolina.
Jack Morehouse on stand-up bass and back-up vocals, started playing bluegrass as the Bass player for a Southern California bluegrass gospel group (Bluegrass Brethren) and has been playing bluegrass bass for over 20 years.
Wayne Eames on Dobro (not pictured) recently began playing and singing with Haywire.  Wayne plays Dobro, Banjo, Mandolin, and is also a wicked pedal steel musician. Wayne has played professionally for over 20 years and was a regular musician at Knott's Berry Farm where he played banjo. Wayne is an amazing musician with tremendous feel and adds wonderful high harmonies to the groups vocal arrangements.
Jon Labrum (honored haywire alumni), sang high tenor vocals. Jon was also the band's mandolin player and played guitar from time to time. Jon also served as the past president of the Southwest Bluegrass Association where he volunteered countless hours to bluegrass. Jon retired from the group in 2010 but will always be a dear friend and a part of Haywire Bluegrass!